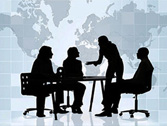 International Overseas Consultants is India's leading manpower agency headquartered in the southern metropolitan city of Chennai (Madras) has been working in the field of manpower supply, achieving our clients satisfaction for over 25 years.
Due to our commitments to clients & to our candidates, IOC accredited 'A' Class license by the Ministry of Labor, Government of India which is the highest available ranking.
We are managed by professionals, senior civil servants, technocrats, engineering & human resources staff to assure providing our clients with the best service, and meeting targets & needs of highly qualified manpower.

Chairman Massage:
International Overseas Consultants was established in 1984 as one of the most prominent recruitment companies serving the Middle East, North America and Asian markets. To nourish the growing demand in the oil & gas business sector for qualified manpower for the different types of construction & maintenance projects, IOC was successfully opened with the aim to ease recruitment fleet management while ensuring cost efficient and cost effective solutions.

Due to the great trust our clients put in our company, we were able to secure over 1 million qualified candidates to engineering, contracting & oil sector companies. Which encourage us to widen our range of services to cover hospitality, defense & education corporate needs around the world.
IOC been serving the major private & government companies within GCC counties (Iraq, Kuwait, Qatar, Bahrain, UAE & Oman) as well as in North America, Singapore, Afghanistan, Melisa… with the high demand of qualified manpower to the huge projects starting in Africa we are targeting to expand our services their and soon we will be opening our office in Egypt so that we can participate in the huge construction & development projects starting over there.
Concluding, we extend our deep gratitude to all the efforts that made this landmark an icon. Special thanks to our team who showed high levels of loyalty, dedication and professionalism. We also thank our clients whose trust fueled our achievements and commitment.